LYNGE, DENMARK, Oct. 14, 2021 /PRNewswire/ — Hearing aid innovator Signia today announced that two of Signia's latest innovations have been selected as honorees in the Consumer Electronics Show 2022 Innovation Awards.
The CES Innovation Awards program is an annual competition honoring outstanding design and engineering in 27 consumer technology product categories.
"We are extremely proud of this recognition for two of our latest and most innovative products. At Signia our mission is to enhance human performance through iconic innovations and being named an Innovation Awards Honoree clearly shows us that we are on the right path," says Signia's Global CMO, Maarten Barmentlo.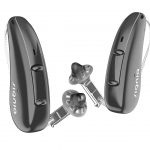 Read more about the reward and Signia's hearing aids.
---
The above information is provided to keep our patients abreast of new developments in hearing aid technology. Acadia Hearing Center sells and services ALL major brands of hearing aids and our recommendations are made based on what a patient NEEDS and what they WANT. Most insurance and discount programs offer a wide selection sure to meet this criteria. If you have questions, don't hesitate to give us a call.