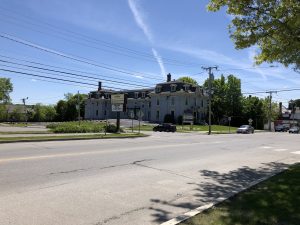 We are in our Bangor Office on Mondays, Thursdays and most Fridays. We see patients only by appointment, so if you need something  please call rather than just 'dropping by'. That way you'll know we're there and and there's time set aside to see you.
Here's a photo of our location viewed from State Street headed towards downtown. We're on the left – diagonally across the street from the Northern Light/EMMC Sleep Center building. If you're coming from downtown towards Northern Light/Eastern Maine Medical Center, we're on your right after the old fire house, now the Bangor Fire House Museum and Papa Gambino's.
The picture shows the front of the building on the right and the entrance way on Birch Street on the left. You 'can't miss us! There's handicapped parking right near the door and when you enter, ours will be the very first office you'll see. The door opens to the right – and you'll be looking to the right when you come thru: it's just that easy. Handicapped accessible.
Please call us at 942-4433 for an appointment. We'd love to see you!
Snow Storm Days
When the Bangor Schools are closed, we are closed as well.  We feel that if it's not safe for our children to be out, we'd rather our patients and our staff stay safe too. If you have an appointment on a snowy day, please check with our office before coming over. If we do cancel an appointment due to weather, we'll make it a priority to get you in as soon as possible.
Directions
From North of Bangor coming via Interstate 95:
Take the Broadway exit (just after the Bangor Mall exits) and turn left onto Broadway. Follow Broadway and go past St. Joseph Hospital and keep going straight.
At the third set of traffic lights (after you pass John Bapst High School), turn LEFT onto State Street.
Acadia Hearing Center is on the right hand side about 1/2 mile. We're past Frank's Bakery and Papa Gambino's.
From Brewer or points west:
Come across the Chamberlain Bridge (where the 'old black bridge' was) and turn right along Hancock Street along the river. Go towards EMMC, through the traffic light, until you reach Birch Street on your left and turn onto it. You'll see the building on the corner on the left as you approach the intersection.