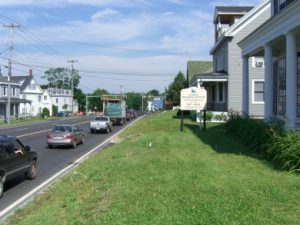 Our Ellsworth office is located at 18 High Street and we're there on Tuesday and Wednesday.
As we see all patients by appointment, please call before heading out. That way you'll know that we're in the office and will have the time to see you. Our phone is 667-4014.
If you ever need to change or cancel an appointment, please call us at any time, 24/7. We have an answering machine where you can always leave a message if we're not in or are unable to answer the phone.
Snow Storm Days
On our Ellsworth office days, when the Ellsworth Schools are closed, we are generally closed as well.  We feel if it's not safe for our children to be out, we'd rather our patients and our staff stay safe too. If you have an appointment on a snowy day, please check with our office before coming over. If we do cancel an appointment due to weather, we'll make it a priority to get you in as soon as possible.
Directions
We're at 18 High Street. It's a white building with white columns. It's on the same side of the street as Cadillac Mountain Sports and the Catholic Church – in fact we're the middle building between them! We tell folks that if they've probably stopped at the traffic light at the corner of High and Main Streets and have been right in front of our building.
From East and North of Ellsworth:
As you come along US Route #1A heading towards Bangor, you'll be on HIGH STREET. After you pass by the shopping centers, you'll see Cadillac Mountain Sports on your right and then the (now-closed) Ellsworth Motel. We're the very next building after the motel just before you get to the traffic light.
If you get to the traffic light, you've gone a bit too far. However, you can turn RIGHT there and go up East Main Street until just before the former Larry's Bakery (now Angela's Pizza) and the railroad tracks. If you turn right there, you can go through the parking lots of the church and a lawyer's office (the gray building) next door until you arrive at OUR parking lot – the last one you can drive to.
From West of Ellsworth:
We recommend that those coming from the West turn left at the traffic light beyond the former 'Fork in the Road' and down the hill. Turn in behind the church and proceed through the parking lots until you can't go any further. Walk down that driveway and you'll be at our door! It's pretty easy really.
For more help
If you need specific driving directions, just call us at 667-4014 and we'll be sure that you can find your way. Just so you know: some GPS systems will put you in the parking lot of Cadillac Mountain Sports. That's not it – even though AAA sends their drivers there despite our telling them it's not right. We are REALLY easy to find, bad technology notwithstanding.