A New Puppy
On April 1, 2023 Dr. Cuthbertson picked up our new puppy.  There is only one puppy this time, but he's keeping us busy!
The new puppy's name is Tyler.
The "Pups"
Assisting us at Acadia Hearing Center for many years were our two Bichon Frise dogs: Taz and Louie. While they may bark occasionally if startled, they have hair not fur, and so do not shed and are hypo-allergenic for most people.
Our Story
Just before Thanksgiving 2006, Taz and Louie joined the practice when a friend of Dr. Cuthbertson's contracted cancer and didn't feel she could manage the puppies any more.  So at the tender age of seven months, Taz and Louie went to Dr. Cuthbertson's house for Thanksgiving and then started coming to the office every day.
Now they have a new home and get to go lots of good places.
They are very fond of boats and water, especially when the boats go really fast.
Their favorite treat is romaine lettuce – they'd eat some everyday if they could!
In August 2020 we lost Taz to pancreatitis.  We know he's waiting on the Rainbow Bridge, but we miss him.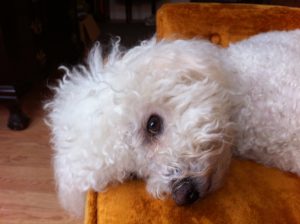 On July 4, 2022 Louie joined Taz on the Rainbow Bridge.